Labour hire company pays high price for dishonesty
1 December 2022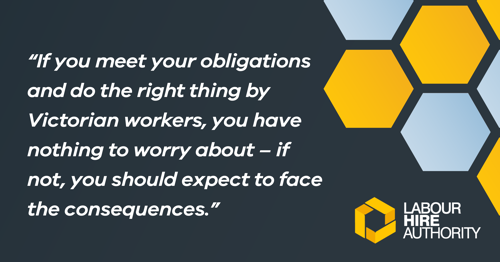 A Victorian company and its director have been fined a total of $483,428.40 – the highest combined penalty in Australian history for contraventions of labour hire law – following a successful prosecution by the Labour Hire Authority (LHA).
Labour hire companies require a licence to operate in Victoria, and their directors and other key people involved in managing the business must be fit and proper, as a means of protecting workers and improving the integrity of the industry.
Ung Services Pty Ltd, which supplied horticulture workers in the Yarra Valley, failed to disclose that its new director Nico Keat had criminal convictions for offences including drug trafficking and theft.
Mr Keat had previously applied for a licence as director of a different company. After LHA denied this application, he became a director of Ung Services, without notifying LHA.
Under the Labour Hire Licensing Act 2018 (Vic), licence holders must notify LHA if their directors or other key people change, or if any key people cease to be fit and proper under the Act.
LHA cancelled Ung Services' licence and pursued legal action, to further hold the company to account for dishonestly attempting to circumvent labour hire licensing requirements.
The Supreme Court of Victoria issued fines of $386,742.72 to Ung Services, and $96,685.68 to Mr Keat, stating in its judgement:
"The knowing nature of the contraventions by UNG and Keat and their potential to undermine the Authority's discharge of its protective and regulatory function, place them at the serious end of the behavioural spectrum."
"The Act was enacted in the light of 'significant evidence of exploitation of workers in the labour hire industry,'" "… the contraventions strike at the heart of the protective purpose of the Act."
LHA investigations had confirmed Mr Keat had been found guilty of 12 offences relating to drug trafficking, theft, failure to answer bail, and suspected proceeds of crime and stolen goods.
Victorian businesses have legal obligations to ensure any labour hire provider they use is licensed. Businesses can check providers' licence status via LHA's Register of Licensed Labour Hire Providers, and can subscribe to be notified of any licence changes via LHA's Follow my provider tool.
Labour Hire Commissioner, Steve Dargavel said:
"Ensuring we have fit and proper people running Victorian labour hire companies is an important way we can protect workers, and improve the industry's integrity."
"If you meet your obligations and do the right thing by Victorian workers, you have nothing to worry about – if not, you should expect to face the consequences."
"Today's judgement sends a strong message to labour hire companies – if your business model involves attempting to dodge laws that protect vulnerable workers, get a new line of business."