Info sessions underway – 2023 engagement program kicks off across Vic
3 March 2023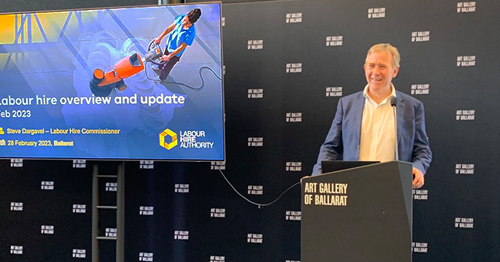 The Labour Hire Authority (LHA) has kicked off its program of engagement with labour hire providers, hosts and stakeholders for 2023, providing the latest information on labour hire licensing.
Dozens of in-person events and information sessions will be held across Victoria over the coming months, covering topics such as:
provider and host obligations under the labour hire licensing scheme
LHA's recent and upcoming compliance and enforcement activities
recent legal and regulatory changes in labour hire
new resources to support compliance.
The sessions will also provide an opportunity to engage with LHA and ask questions. All providers, hosts and stakeholders are strongly encouraged to attend.
Over the coming weeks, details of upcoming regional sessions will be emailed directly to local providers. All upcoming sessions will also be posted on the LHA events webpage.
Recent info sessions
A session for providers and hosts was held in Ballarat on 28 February, with two dozen attendees from the local area.
"It was great to meet with local labour hire providers and hosts in Ballarat on Tuesday – we received positive feedback on the value of the session, as well as plenty of good questions," said Labour Hire Licensing Commissioner Steve Dargavel.
"The question and answer session facilitated some great discussion on both the role that LHA plays in compliance and regulation, and how we work with labour hire providers, hosts and workers."
The Commissioner also met this week with the Ballarat Trades and Labour Council, Australian Services Union, the Shopping Centre Council of Australia, and a host businesses in the gaming industry.
Upcoming sessions
Sessions are currently being scheduled across Victoria. In April, we will be hosting presentations in the Mallee region. Registrations are now open for these sessions:
During March and April, we will also be meeting with members of the:
Australian Industry Group
Wimmera Development Association
Victorian Transport Association.
As more sessions are confirmed, details will be posted at labourhireauthority.vic.gov.au/events.
If you're interested in having a session tailored to your industry or region – and to provide us with feedback on the information we provide in LHA News – let us know via this three-minute survey.