Large security services provider has labour hire licence granted with conditions
7 September 2023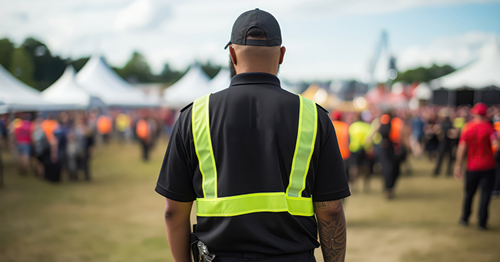 The Labour Hire Authority (LHA) recently granted a labour hire licence to a provider in the security industry with a number of conditions attached.
M.A Services Group Pty Ltd applied for a labour hire licence to supply security and cleaning industry workers to a range of host businesses across Victoria. Companies that supply security guards and crowd controllers to businesses such as hotels, clubs, pubs, events, and retail and commercial premises are generally considered to be labour hire providers.
In assessing M.A Services Group's labour hire licence application, LHA reviewed the company's compliance with its legal obligations, particularly to employees, with a focus on wages and the use of individual flexibility arrangements (IFAs).
LHA also reviewed contract rates in the company's labour supply chains, to consider whether there was a risk that subcontractors would be unable to meet their minimum legal obligations for pay and conditions.  
At the conclusion of its enquiries, LHA decided to grant the company's licence application, subject to a number of conditions.
Broadly, these conditions require M.A Services Group to:
terminate IFAs that removed employees' entitlement to overtime penalties in certain circumstances, and therefore did not leave them 'better off overall' as required under the Fair Work Act 2009
commission an independent audit of some employees' entitlements
assess and report on its supply chain arrangements.
Any conditions on a labour hire licence are referenced on LHA's Register of Licensed Labour Hire Providers. The conditions on the M.A Services Group licence can be viewed in full online.
Conditions imposed on M.A Services Group
Use of individual flexibility arrangements
One of the conditions imposed upon M.A Services Group's labour hire licence related to the use of IFAs that removed employees' entitlement to overtime penalties in certain circumstances.
An IFA is an agreement between an employee and employer, made in accordance with the flexibility term in the relevant award or enterprise agreement.
Providers must ensure any IFAs they implement meet Fair Work Act 2009 requirements, including:
An individual employee and their employer must 'genuinely agree' to the IFA.
The IFA must leave the employee 'better off overall' than if they had not entered into the IFA, based on weighing up the advantages and disadvantages of the IFA compared to the employee's entitlements under their award or enterprise agreement.
LHA was not satisfied that M.A Services Group's IFAs left employees 'better off overall' and were compliant with workplace laws.
LHA imposed conditions requiring the company to terminate all IFAs of this type within 28 days, and provide evidence that this had been enacted.
More information about IFA requirements is available on the Fair Work Ombudsman website.
Independent audit of wages and entitlements
Through its enquiries, LHA was concerned that some M.A Services Group employees – those paid according to a particular roster or on an annualised salary arrangement – may have been underpaid.
To ensure compliance with workplace laws, LHA imposed conditions requiring the company to:
engage an appropriate external specialist to review these employees' wages and entitlements
produce a report on the outcomes of the review, and provide this to LHA
rectify any identified underpayments.
Supply chain assessment and reporting
Subcontracting may increase the risk of non-compliance by providers within complex supply chains.
In line with the approach outlined in its Guidance for the security industry: cost of meeting your legal obligations, LHA reviewed the arrangements in place between M.A Services Group, its hosts and subcontractors.
Ultimately, LHA decided to impose supply chain transparency and responsibility conditions on the company's licence.
Under these conditions, M.A Services Group is required to:
undertake a genuine assessment about whether the amount it proposes to pay to any new subcontractors will reasonably allow them to comply with minimum legal obligations
provide a written report to LHA about this assessment, and details of the new subcontractor
provide periodic written reports to LHA about its subcontracting activities.
Tackling non-compliance within the security industry
The security industry remains a key area of focus for LHA, to protect workers and continue to improve the transparency and integrity of the industry.
LHA continues to work with:
head contractors around ensuring they maintain responsibility and transparency throughout their supply chains, through education and/or licence conditions
providers, by offering guidance about complying with their legal obligations and imposing conditions where appropriate to monitor compliance.
LHA takes firmer compliance actions where providers are unwilling or unable to comply with their legal obligations.
Across the security industry to date, LHA has:
cancelled 104 licences (initiated by LHA or the licence holder)
processed withdrawals of 16 applications/renewals (including withdrawals in response to compliance checks)
refused 10 applications/renewals
imposed conditions on 11 licences
responded to 6 VCAT reviews (decisions to refuse or cancel a licence)
finalised an additional 50 investigations (where no licensing/enforcement action was ultimately required, such as where a warning was issued)
32 open/ongoing investigations.
Read more about LHA's focus on the security industry: