Welcome to the December 2021 edition of Labour Hire Authority's News
21 December 2021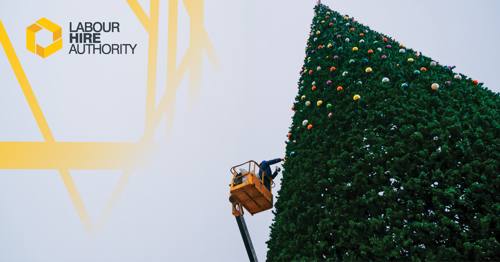 From all of us here at the Labour Hire Authority (LHA), we wish you a very happy holiday season and a wonderful new year.
As some industries wind down for the year, other industries experience their busiest time of year during the Christmas and New Year holiday period. During this time, it is especially important for all of us to be patient and avoid getting overwhelmed and acting out because work-related violence is never ok. It is also important to make sure you're ready for the holiday rush and have pay, entitlements and safety covered.  
Our call centre will be unavailable from Monday 27 December (inclusive) to Monday 3 January (inclusive). During this time, you are welcome to continue contacting us by emailing Enquiries which will be monitored throughout this period and please continue using Report a Problem to report any suspected non-compliance.
While 2021 presented challenges related to coronavirus (COVID-19), the LHA continued preventing the exploitation of labour workers and improving the integrity of the labour hire industry through our education, compliance and licensing activities.
In addition to the hundreds of licence applications withdrawn and discontinued, to date the LHA has refused 95 licence applications across all industries. One recent licence application was refused following enquiries related to compliance with workplace laws after an objection was made to the application.
The LHA has also reduced the exploitation of labour hire workers by imposing conditions on labour hire providers. The LHA recently imposed strict licence conditions on a labour hire provider to address compliance issues, including requiring workers to pay for safety equipment.
Annual reporting is a condition of every labour hire licence that helps us ensure we have current information to better understand providers, and to monitor and enforce compliance. After putting labour hire providers on notice to meet their annual reporting obligations the LHA has cancelled a provider's licence for failure to meet their annual reporting obligations.
The LHA also recently joined other Victorian Government agencies to deliver information sessions and undertake inspections to help growers and providers in the horticulture sector comply with workplace health and safety obligations, COVID-19 requirements and ensure labour hire workers are only engaged through a licenced provider.
In this issue:
Licence conditions imposed on labour hire provider to ensure safety equipment is provided
Labour hire licence application refused following formal objection
LHA cancels provider's licence after failure to meet annual reporting obligations
Safety a focus of farm visits
Guide to engaging workers as independent contractors
Victorian Government private security industry review
View the articles in the News section of our website.